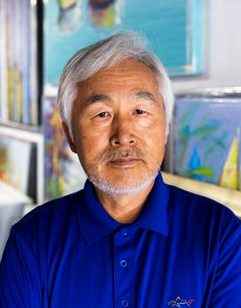 Eward Park is an internationally recognized painter that was born into a family of artists. His father and brother were accomplished artists and they started teaching him watercolors when he was five years old. Since then he has avidly continued his journey both on his own and through formal training including study at Pont-Aven School of Contemporary Art in France and receiving a Bachelors of Fine Art at the prestigious Ringling College of Fine Art and Design. This training, with fifty plus years of painting, has allowed him to expand his skills accross different mediums and genres. This has given him the unique style that is his own, that encompasses a range from abstract to realism.
His passion for his work shows in his philosphy. " A painting should be more than a decoration that fills an empty space on the wall. It should be a treasure that is passed on to folllowing generations in order to contribute its valuable emotional environment to our descendents. With this in mind I paint objects that give us images of peace,softness, and warmth"
His work has won numerous awards and is coveted by professional and celebrity art collectors including the late Burt Reynolds.